Khao San Road is a famous street located in the Banglamphu neighborhood of Bangkok, Thailand. To get there, you can take the skytrain (BTS) to the Phra Arthit station, which is a short walk from Khao San Road. Alternatively, you can take a taxi or ride-sharing service like Grab or Gojek.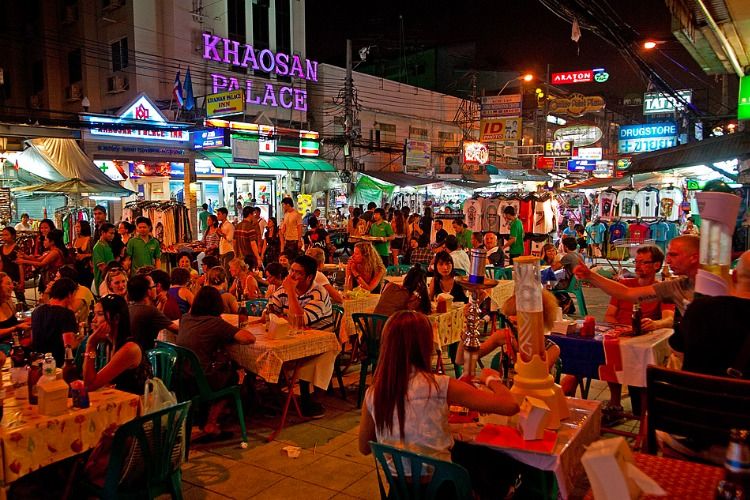 Once you're in the area, there are many things you can do. Here are 20 suggestions:
Try some street food – Khao San Road is known for its delicious and affordable street food.
Visit Wat Chana Songkhram – a Buddhist temple located just off Khao San Road.
Go shopping – Khao San Road is lined with stalls selling souvenirs, clothes, and other goods.
Relax at a rooftop bar – there are several rooftop bars in the area with great views of the city.
Take a boat tour of the Chao Phraya River – you can see many of Bangkok's landmarks from the river.
Visit the Grand Palace and Wat Phra Kaew – two of Thailand's most famous tourist attractions, located just a short distance from Khao San Road.
Try a traditional Thai massage – there are many massage parlors in the area offering traditional Thai massages.
Take a cooking class – learn how to make traditional Thai dishes with a cooking class.
Visit the National Museum – located just a short walk from Khao San Road, this museum has exhibits on Thai history and culture.
Visit the Wat Pho Temple – home to the famous Reclining Buddha, this temple is a must-see for any visitor to Bangkok.
Take a tuk-tuk ride – these three-wheeled vehicles are a fun and unique way to get around the city.
Go to a rooftop pool – several hotels in the area have rooftop pools with great views of the city.
Take a canal tour – Bangkok has many canals, and taking a tour is a great way to see the city from a different perspective.
Visit the Jim Thompson House – this museum is dedicated to the American businessman who helped revive the Thai silk industry.
Go to a night market – Khao San Road has a night market every evening, with stalls selling food, souvenirs, and other goods.
Take a Muay Thai class – Muay Thai is Thailand's national sport, and you can learn how to do it at one of the many gyms in the area.
Visit the Wat Suthat Temple – this temple is known for its beautiful murals and large red swing out front.
Try some exotic fruits – Thailand is home to many exotic fruits that you may not have tried before.
Go on a bike tour – several companies offer guided bike tours of the city, including some that start from Khao San Road.
Visit the Dusit Palace – this palace was the former residence of the Thai royal family and is now open to the public.