Wat Mangkon Kamalawat: Known as the Dragon Temple, due to the numerous Chinese influenced dragon statues surrounding the temple.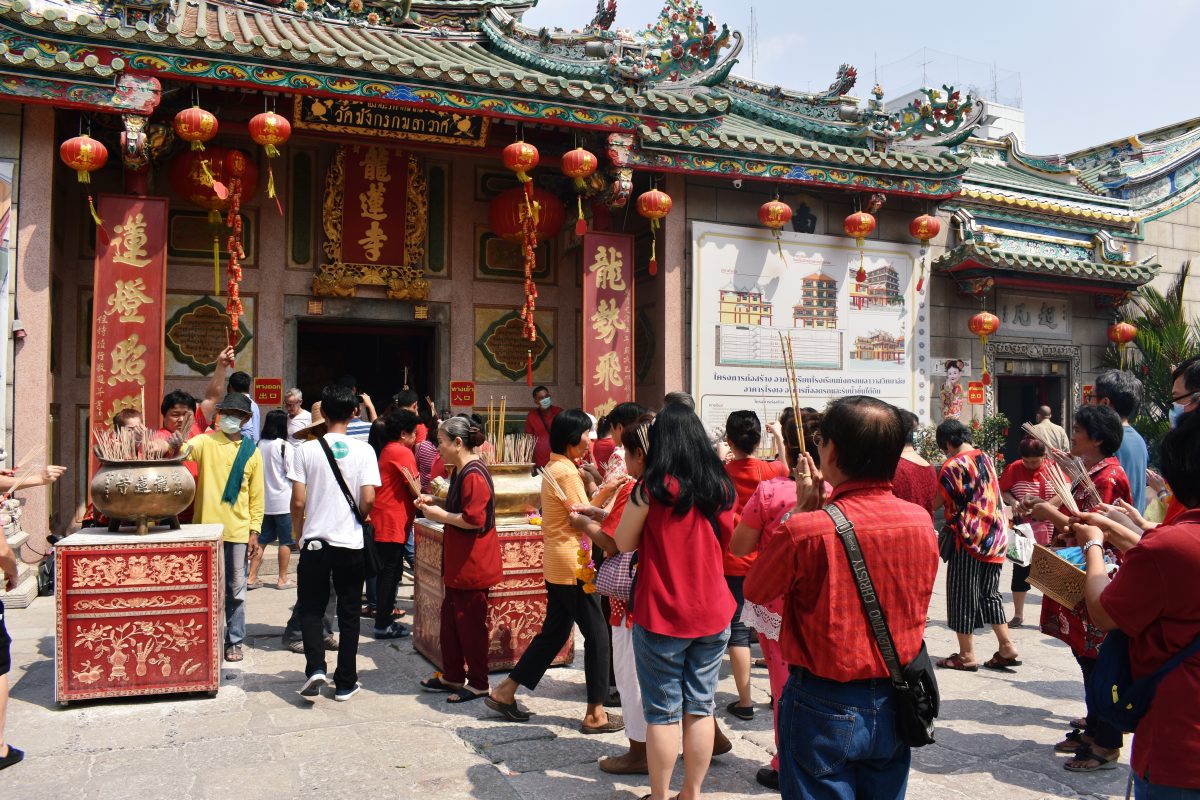 See the Chinese temple: Wat Mangkon Kamalawat is a Chinese temple that is known for its unique blend of Chinese and Thai architectural styles. The temple features elaborate carvings and statues of Chinese deities, making it a fascinating place to visit.
Visit the main hall: Wat Mangkon Kamalawat has a large main hall that houses a number of statues, including a large statue of Kuan Yin, the Chinese goddess of mercy. The hall is also decorated with intricate carvings and is an interesting place to explore.
Take a stroll through the temple grounds: Wat Mangkon Kamalawat's temple complex covers a large area and has a number of different structures and statues. Take a stroll through the grounds and explore the different styles of architecture and artwork.
Visit the temple's museum: Wat Mangkon Kamalawat has a small museum that showcases the history and culture of the temple, as well as its significance in Chinese Buddhism.
Attend a traditional Chinese ceremony: Wat Mangkon Kamalawat often hosts traditional Chinese ceremonies and rituals, such as praying for good luck and fortune, visitors are welcome to observe and participate in these events.
Learn about Chinese Buddhism: Wat Mangkon Kamalawat is a great place to learn about Chinese Buddhism, its beliefs and practices and Chinese culture. Visitors can explore the temple and speak with the resident monks to learn more.
Take a class in traditional Chinese arts: Wat Mangkon Kamalawat offers classes in traditional Chinese arts such as Chinese calligraphy and traditional Chinese music.
Observe the Monks: Wat Mangkon Kamalawat is an active temple and it has a resident community of monks. Visitors can take the opportunity to observe the daily routines of the monks and learn about the monastic lifestyle.
Visit the temple's library: Wat Mangkon Kamalawat has a traditional Chinese-style library that houses a collection of Buddhist texts and manuscripts. The library is open to the public and is a great place to learn more about Buddhism and Chinese culture.
Visit the temple's gift shop: Wat Mangkon Kamalawat has a gift shop that sells a wide variety of items related to Chinese Buddhism, such as incense, prayer beads, and statues. Visitors can purchase souvenirs to take home as a reminder of their visit.
Regulations: Visitors are expected to dress modestly, cover the shoulders and legs, and remove their shoes before entering the temple buildings. Visitors are also expected to be respectful of the temple and its artifacts and are not permitted to touch or climb on the statues.
How to go there: Wat Mangkon Kamalawat is located in the Phra Nakhon district of Bangkok. It is easily accessible by public transportation, and it can be reached by taking the metro to the Sam Yot station.
Cost: As of 2021, the entrance fee for foreign visitors is 20 THB.
Opening date and time: Wat Mangkon Kamalawat is open to visitors every day from 8:00 AM to 5:00 PM. However, the temple may close for short periods of time for maintenance or other reasons. It is always better to check the official website or contact the temple authorities before planning the visit.