Sanctuary of Truth: This wooden temple is known for its intricate carvings and sculptures, as well as its beautiful architecture.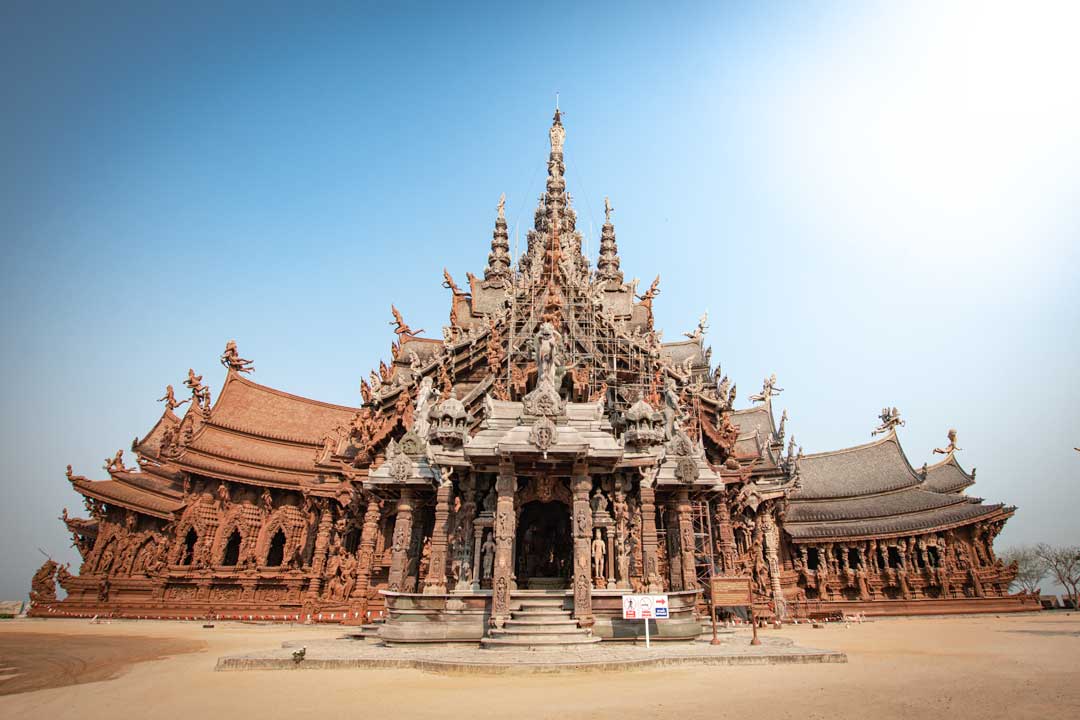 Take a guided tour: A guided tour will give you a deeper understanding of the history and meaning behind the Sanctuary of Truth. You'll learn about the architectural style and the intricate carvings that adorn the building.
Marvel at the intricate carvings: The Sanctuary of Truth is covered in intricate wooden carvings that depict scenes from Thai and other Asian cultures, including Buddhism, Hinduism, and ancient mythology.
Climb to the top: The Sanctuary of Truth is a tall building, and visitors are welcome to climb to the top to enjoy a panoramic view of the surrounding area.
Take a boat tour: Visitors can take a boat tour around the Sanctuary of Truth, which offers a different perspective on the building and its carvings.
Attend a traditional Thai dance performance: Traditional Thai dance performances are held at the Sanctuary of Truth, giving visitors a taste of Thai culture.
Explore the surrounding gardens: The Sanctuary of Truth is surrounded by beautiful gardens that feature a variety of plants and flowers. Take a stroll and enjoy the peaceful atmosphere.
Learn about the history of the building: The Sanctuary of Truth was built in the 1980s and has an interesting history. Learn about the motivations and vision behind its creation on a guided tour.
Take a look at the elephants: The Sanctuary of Truth has several elephants on the property, which visitors can observe and learn about.
Visit the art galleries: The Sanctuary of Truth features several art galleries that showcase traditional Thai art and artifacts.
Enjoy a Thai massage: Visitors can relax and unwind with a traditional Thai massage, which is available on the property.
Regulations: -The Sanctuary of Truth is a religious and cultural site, so visitors are asked to dress modestly and remove their shoes before entering. -Photography and videography are allowed, but flash photography is not permitted. -Food and drinks are not allowed inside the building.
How to go there: -The Sanctuary of Truth is located in Pattaya, Thailand, and can be reached by car, motorcycle, or songthaew (a type of local transportation). -It's also possible to take a tour that includes transportation from Bangkok.
Cost: -The admission fee for the Sanctuary of Truth is 600 THB (Thai Baht) for adult and 300 THB for children.
Opening date and time: -The Sanctuary of Truth is open every day of the year, and the opening hours are from 8:30 AM to 5:00 PM.
Note: Please always check the official website or contact the operator for the latest information on regulations, cost, and opening date and time.