Jomtien Beach: This beach is known for its quieter atmosphere and family-friendly activities, such as parasailing and jet skiing.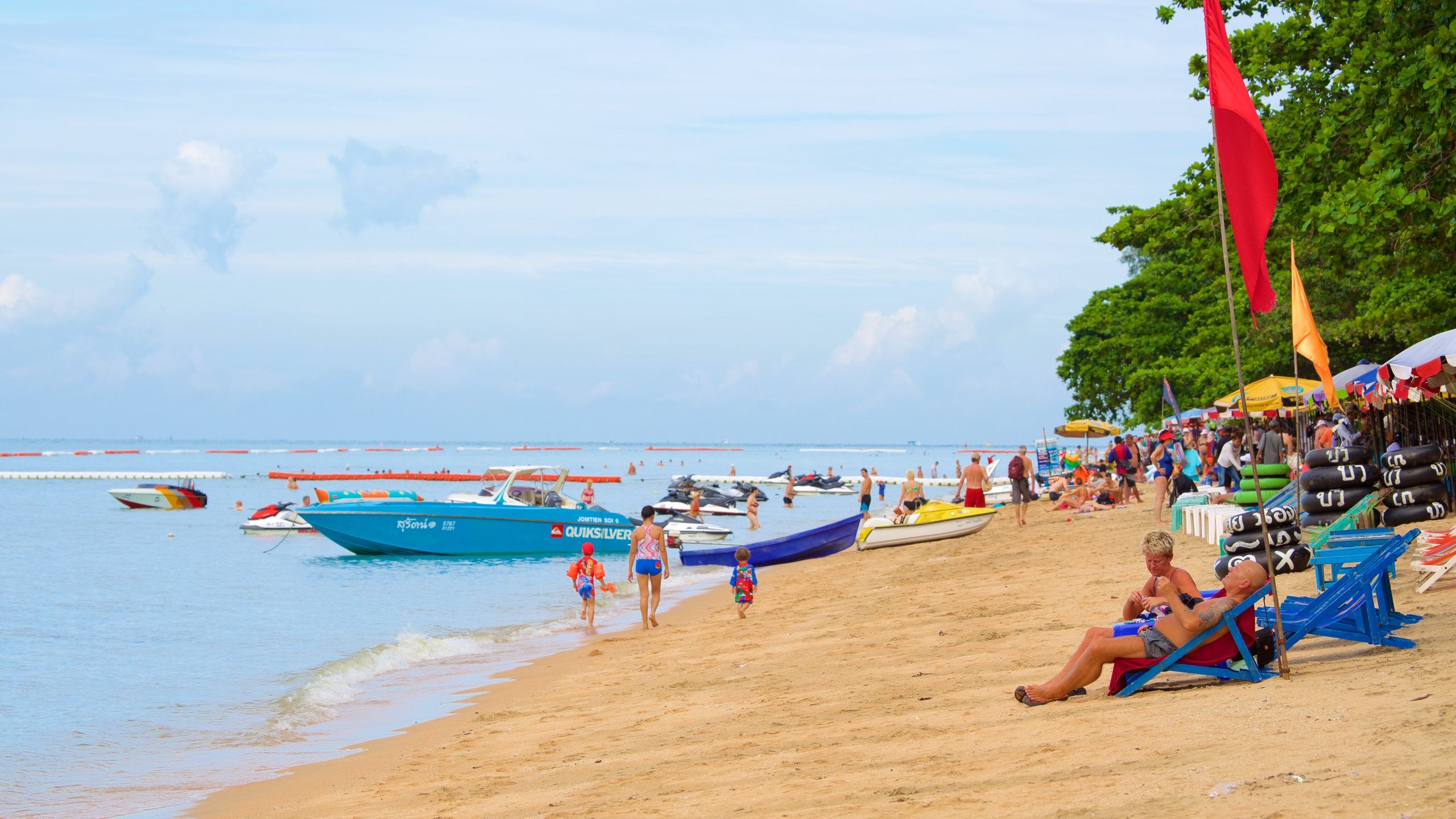 Relax on the beach: Jomtien Beach is one of the most popular beaches in Pattaya, visitors can relax on the beach and soak up the sun.
Water sports: Visitors can enjoy a variety of water sports such as jet skiing, parasailing, and banana boat rides.
Take a boat tour: Visitors can take a boat tour of the surrounding seas and islands and see the beautiful beaches and coastline.
Visit the Jomtien Night Market: Visitors can take a stroll through the market and browse the different stalls selling traditional Thai goods such as clothing, jewelry, and souvenirs.
Visit the Wat Yansangwararam temple: Visitors can see this large temple that features intricate carvings and sculptures depicting scenes from Buddhist mythology.
Take a trip to the nearby islands: Visitors can take a trip to nearby islands such as Koh Larn, Koh Sak, and Koh Krok, which offer beautiful beaches and clear waters for swimming and snorkeling.
Visit the Pattaya elephant village: Visitors can see elephants in their natural habitat and learn about elephant conservation efforts.
Visit the Pattaya Park Tower: Visitors can see the beautiful views of Pattaya city from the observation deck.
Take a class in traditional Thai arts: Jomtien Beach offers classes in traditional Thai arts such as traditional Thai dance, traditional Thai cooking and traditional Thai massage.
Nightlife: Jomtien Beach is known for its vibrant nightlife, visitors can go to the bars and clubs and enjoy live music and entertainment.
Regulations: Visitors should be mindful of the local laws and customs, specifically in regards to dress code, public behavior and drug offenses which are strictly enforced. Also, visitors should follow the beach's rules, such as not littering and respecting the wildlife.
How to go there: Jomtien Beach is located in Pattaya city, visitors can reach the beach by taking a local bus, tuk-tuk, or songthaew from the main town of Pattaya.
Cost: There is no entrance fee to Jomtien Beach, but visitors may have to pay for activities such as water sports, boat tours, or traditional Thai massage sessions. Prices may vary depending on the activity or service.
Opening date and time: Jomtien Beach is open to visitors every day, and the beach is accessible 24 hours. However, the best time to visit the beach is during the day, when the weather is clear and suitable for swimming and sunbathing. Some beach facilities, such as restaurants, might have specific opening and closing hours.