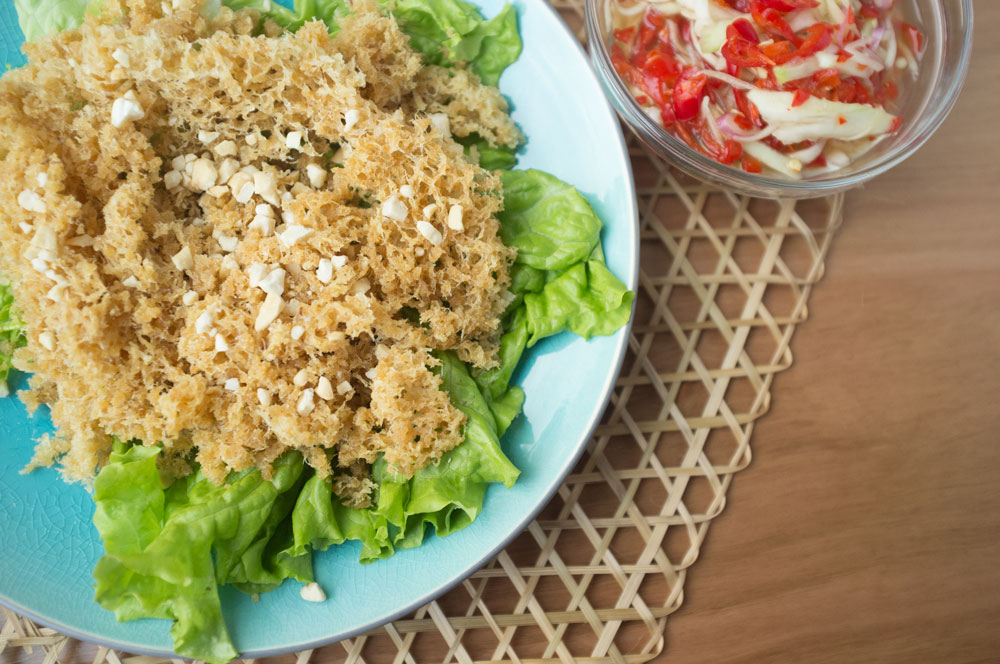 To make Yum Pla Dook Foo, you will need the following ingredients:
250 grams of catfish fillets
2 tablespoons of rice flour
1 tablespoon of tapioca flour
1 teaspoon of baking powder
1/2 cup of cold water
1/2 cup of vegetable oil
2 cloves of garlic, minced
1 shallot, minced
1 long chili, thinly sliced
2 tablespoons of chopped cilantro
1 tablespoon of chopped mint
1 tablespoon of chopped scallions
1 tablespoon of chopped roasted peanuts
1 tablespoon of sugar
2 tablespoons of fish sauce
2 tablespoons of lime juice
1/2 cup of sliced cabbage
For the seasoning, you will need:
1/2 teaspoon of salt
1/4 teaspoon of black pepper
To make the Yum Pla Dook Foo, follow these steps:
In a medium bowl, mix together the rice flour, tapioca flour, baking powder, and cold water until a smooth batter is formed.
Cut the catfish fillets into bite-sized pieces, then coat them in the batter.
Heat the vegetable oil in a wok or large frying pan over medium heat. When the oil is hot, add the battered catfish pieces and fry them until they are golden brown and cooked through, about 2-3 minutes per side. Remove the catfish from the oil and drain on a paper towel.
In a large mixing bowl, combine the garlic, shallot, chili, cilantro, mint, scallions, peanuts, sugar, fish sauce, and lime juice.
Add the fried catfish to the mixing bowl and toss to coat the fish in the dressing.
Add the cabbage and toss everything together until well combined.
Serve the Yum Pla Dook Foo immediately, garnished with additional chopped herbs and peanuts if desired. Enjoy!