Laab is a popular Thai meat salad made with ground meat, herbs, and spices. Here is a recipe you can follow to make it at home: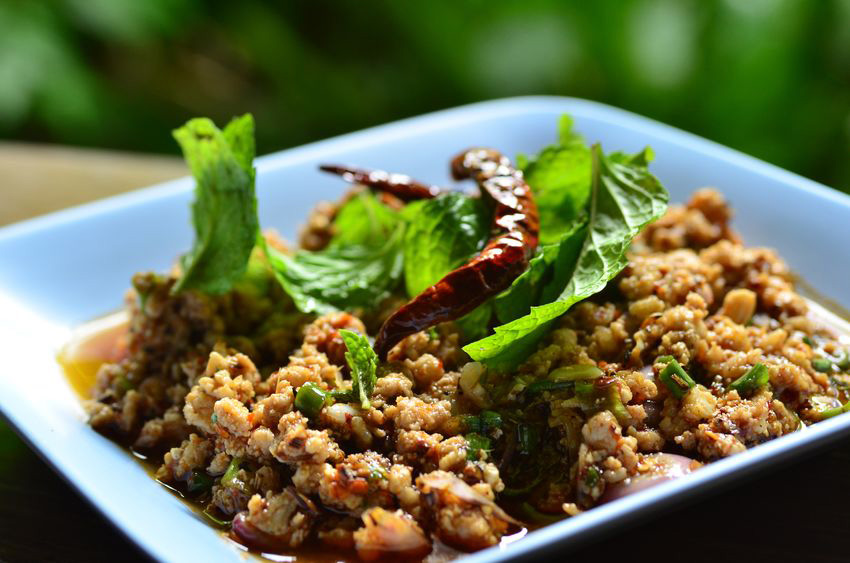 Ingredients:
1 lb ground pork, chicken, or beef
2 tablespoons of toasted rice powder
2 tablespoons of lime juice
2 tablespoons of fish sauce
1 tablespoon of sugar
1 teaspoon of chili flakes
2 cloves of garlic, minced
2 tablespoons of vegetable oil
1 small white onion, finely chopped
2 cups of finely chopped mixed herbs (such as cilantro, mint, and green onions)
Lettuce leaves for serving
Instructions:
In a small bowl, whisk together the toasted rice powder, lime juice, fish sauce, sugar, chili flakes, and garlic. Set aside.
Heat the oil in a wok or large frying pan over medium-high heat. Add the ground meat to the pan and stir fry for 5-7 minutes until it is fully cooked.
Add the onion to the pan and continue to stir fry for an additional 2-3 minutes until it has softened.
Pour the sauce mixture into the pan and stir to combine. Remove the pan from the heat.
In a large bowl, mix together the cooked meat mixture and the herbs.
Serve the Laab on a bed of lettuce leaves, garnished with additional herbs if desired.