There are several ways to get to Honduras:
By plane: Honduras has several international airports, including Toncontín International Airport in the capital city of Tegucigalpa and Ramón Villeda Morales International Airport in San Pedro Sula. There are several airlines that offer flights to Honduras from major cities in the United States, Europe, and Latin America.
By bus: You can also take a long-distance bus from neighboring countries such as Guatemala, El Salvador, and Nicaragua.
By car: If you're planning to drive to Honduras, you'll need to have a valid driver's license and register your vehicle with Honduran authorities.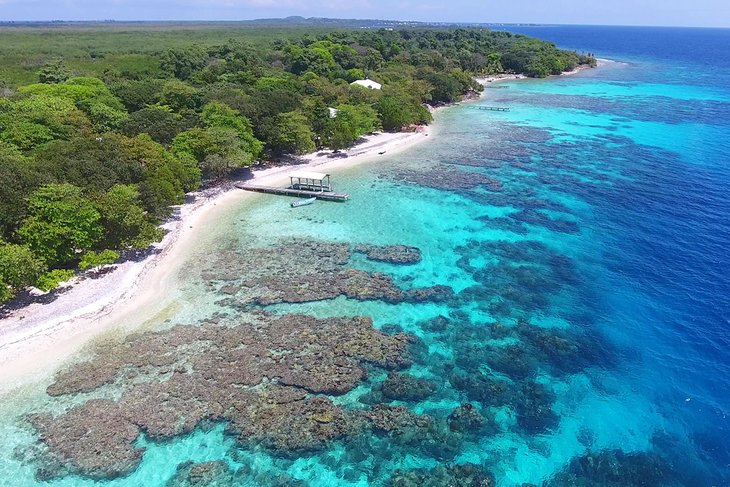 10 popular tourist attractions in Honduras include:
Copán: This ancient Maya city is home to a well-preserved set of stone hieroglyphs and a number of stunning temples and pyramids.
Bay Islands: These Caribbean islands offer some of the best diving and snorkeling in the world, with crystal-clear waters and a diverse array of marine life.
La Tigra National Park: Located near Tegucigalpa, this national park is home to a variety of flora and fauna, including over 200 species of birds.
Río Plátano Biosphere Reserve: This UNESCO World Heritage Site is home to a diverse array of plant and animal species, including jaguars, howler monkeys, and tapirs.
Pico Bonito National Park: Located in the northeastern part of the country, this national park is home to a number of waterfalls, including the spectacular Quetzal Falls.
Lago de Yojoa: This beautiful lake is located in the heart of the country and is surrounded by lush forests and mountains.
Honduras Maya Hotel: This stunning hotel is located in Copán and offers luxurious accommodations and stunning views of the surrounding area.
Mayan Spa: Located in the town of La Esperanza, this spa offers a variety of relaxation and wellness treatments using traditional Maya techniques.
Museo Nacional de Antropología e Historia de Honduras: This museum in Tegucigalpa is home to a number of interesting exhibits on the history and culture of Honduras.
Comayagua Cathedral: This beautiful cathedral, located in the town of Comayagua, is known for its ornate architecture and rich history.
Other important information that tourists should know:
It is recommended that tourists purchase travel insurance before coming to Honduras.
It is important to be aware of local customs and traditions and to respect the culture of Honduras.
It is advisable to be cautious when traveling to certain areas of the country, as crime and violence can be a problem in some areas.
It is important to stay hydrated and to use insect repellent to protect against mosquito-borne illnesses such as malaria and dengue fever.
It is recommended that tourists carry cash in small denominations, as credit card acceptance can be limited in some areas.
It is important to be aware of local laws and regulations and to follow them while in Honduras.