To get to Guatemala, you will need to fly to Guatemala City, which is the capital and largest city in the country. The main airport in Guatemala City is the La Aurora International Airport (GUA), which is located about 5 miles (8 kilometers) from the city center. There are several major airlines that operate flights to Guatemala City from various cities around the world, including American Airlines, Delta, United, and Avianca.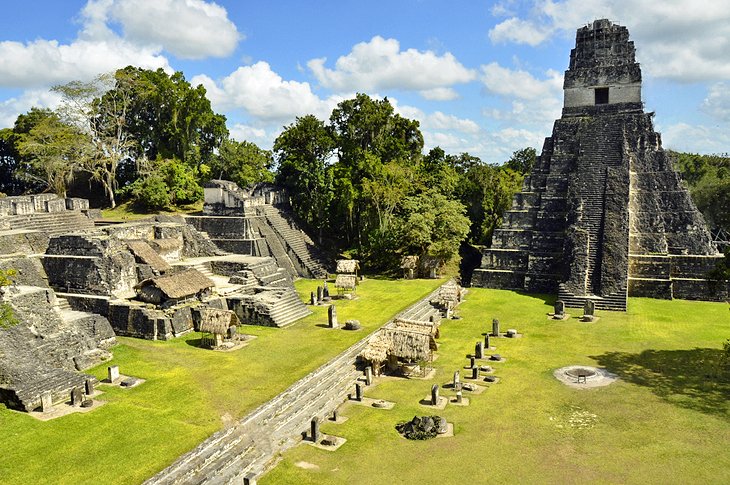 Once you arrive in Guatemala, there are several popular tourist attractions that you may want to visit. Here are ten suggestions:
Tikal National Park: This UNESCO World Heritage Site is home to some of the most impressive Mayan ruins in the world.
Antigua: This charming colonial city is known for its beautiful architecture and rich history.
Lake Atitlán: This picturesque lake is surrounded by volcanoes and traditional Mayan villages, making it a popular destination for outdoor enthusiasts.
Semuc Champey: This natural bridge is located in the heart of the jungle and offers a variety of activities, such as swimming in its turquoise pools and exploring the surrounding caves.
Chichicastenango Market: This bustling market is held twice a week and is known for its colorful textiles, handmade crafts, and traditional food.
Quiriguá: This ancient Mayan site is home to the largest carved stone blocks in the world and offers a glimpse into the culture and history of the Maya.
Xunantunich: This Mayan ruin is located just across the border from Belize and is known for its towering pyramids and impressive stucco friezes.
Pacaya Volcano: This active volcano is located just outside of Guatemala City and offers guided tours and the opportunity to hike to the summit.
Monterrico: This small beach town is located on the Pacific coast and is known for its beautiful black sand beaches and turtle conservation efforts.
Río Dulce: This river flows through the jungle and is known for its stunning scenery and opportunities for adventure sports such as kayaking and white water rafting.